Last Update March 3, 2021
________________________________
Bob Behler
Former Captain Robert Behler

We regret to report the sudden passing of former member and Past Captain Robert Jon Behler, 54, at his Hamden home on February 20, 2021. Bob was very active in Co. 5 activities in the 1990s and early 2000s. In addition to his fire department activities with Co. 5, Bob was also a member of the Bethany Volunteer Fire Department.

Bob was an auto parts sales technician and had worked for Hamden Auto Parts, CT Warehouse, and NAPA Auto Parts. He was a member and Past Master of Day Spring Lodge #30 AF & AM and Temple Lodge #16 AF & AM, and he was a member and Past Patron of Alice Chapter #76 O.E.S.
Father of Roland Texeira, David (Kyrstyna) Texeira, and Jon Behler. Grandfather of David Paul Texeira, Jr. and Riley Elizabeth Texeira. Brother of Deborah (Nicholas) Sidorick, Susan Behler Pelletier and Cynthia (Joseph) Cavallaro. Son-in-law of Cynthia Turner. Brother-in-law of Paul (Mary) Turner and Tracy (Amy Marsh) Turner. He is also survived by several nieces, nephews, great-nieces and great-nephews.

Friends may visit with his family on Friday, March 5 at BEECHER & BENNETT, 2300 Whitney Ave., Hamden from 5-8 p.m. Fraternal services by Day Spring Lodge and Alice Chapter will begin at 7:15.
A Memorial Service will be held on Saturday morning, March 6 at 10 a.m. in Grace & St. Peter's Episcopal Church. Due to COVID-19 restrictions, seating at the church will be limited. If you still wish to attend, the service will be Live Streamed via Zoom. Please use Meeting ID 414 327 0042 and Passcode 061061 to view.
In lieu of flowers, contributions in his memory may be sent to the Eastern Star Charity Foundation, 37 Paugassett Rd., Derby, CT 06418 or the Masonic Charity Foundation, P.O. Box 70, Wallingford, CT 06492. For information or to send a condolence, please see his obituary at: www.beecherandbennett.com.
Please keep Bob's family and friends in your thoughts and prayers at this sad time.
Revised 3/3/2021
________________________________
Mt. Carmel Fire Station Hits the 95-Year Mark
The January meeting marked the 95th anniversary of the first meeting held at the fire station, AKA "Station 5," which was built in the summer and autumn of 1925 through the fundraising efforts of the volunteers.
This was a somewhat ironic anniversary because the COVID-19 pandemic has prevented the group from conducting meetings on the fire station property since June, when the meeting was held outdoors.

Since autumn 2020, monthly meetings have been held on Zoom. The January meeting concluded with a replay of the 2011 ten-minute video about the history of the fire company, which was shown at the November 11, 2011 Centennial Dinner.
_____________________________________________________________________________________________________
_____
_____________________________________________________________________________________________________
_____
John Blasius - New Haven Fire School - May 1973
John E. Blasius
(Dec. 27, 1950 - July 11, 2020)
We are deeply saddened to report the passing on Saturday, July 11, 2020, of longtime Co. 5 member John E. Blasius, 69, who served as an active member for many years.
John joined the company on May 27, 1969 and proved to be an excellent firefighter. He served on the committee to rebuild the basement beginning in the summer of 1971, when the new basement concrete floor was poured. Starting in 1972 be served as a company line officer for several years. That autumn, John was part of a small committee that rebuilt the basement meeting rooom. He also was instrumental in increasing company membership during the recruitment drives for new members in the 1970s. He was active in all company activites, served on numerous committees, and ran several paper drives.

A memorial service for John will be held at a later date and arrangements will be posted here when they are known.
CLICK HERE for John's obituary.

Posted 7/13/2020 - 1915 hrs
_____________________________________________________________________________________________________
_____
It was a very different and tulmultuous era. Connecticut National Guard soldiers were stationed on the four corners of all central downtown New Haven streets. In Hamden, fire and police department preparations for the 1970 May Day Weekend were perhaps the most stringent since Pearl Harbor. Nine members of the Black Panther Party were about to stand trial in New Haven for the 1969 murder of an alleged FBI informant. Hamden's fire and police departments were among the many New Haven Area public safety agencies that went on high alert due to the possibility of civil unrest promoted by "outside leftwing agitators."
The number of Hamden career firefighters assigned to each of three platoons, already bolstered by the impending addition of a fourth platoon several months later, was enhanced even further over the three-day weekend that began with Friday, May 1st.

Hamden's four volunteer fire companies also manned their stations continuously from Friday evening until Monday morning. For the first time in memory, if ever, a career officer was assigned to Station 5 for the Friday and Saturday night shifts, Lieut. Bill Hines on Friday and Capt. Paul Rosadina on Saturday. Department-wide anxiety was heightened ever further on Saturday night with reports of a bombing at Yale's Ingall's Rink on Prospect Street.

Fortunately, when the standby was all over, the only fire department activities in Hamden were a number of false alarms, most originating from Quinnipiac College (see the May 7, 1970 Hamden Chronicle article below).

Don Steele was the captain of Co. 5 at the time. At right is the page from his record book showing the May Day stand-by the company's volunteers. Other logbook entries list the remaining volunteer calls for the 1969-70 fiscal year, which ended on September 30th.




CLICK to enlarge
Brush fires, especially on Sleeping Giant, usually covered large areas and were very time consuming. The two career firefighters assigned to Station 5 truly appreciated their volunteers for those jobs. Most of the "paid men" at 5's were also members of the company. Several of them are also mentioned among the volunteer personnel who responded. It was a very different era.
_____________________________________________________________________________________________________
_____
Retired HFD Capt. Bob Viglione

He Made It!

Bob Viglione was appointed to the career department in 1969. He retired twenty years ago at the rank of captain. For many years Bob was in charge of the department's Haz-Mat Team, but in all those years he never faced the kind of invisible enemy that he faced during the last few weeks..

After Bob retired in 2000, he opened his barber shop on Rt. 80 in North Branford. Many of our other local retirees are his regulars (he gives damn good haircuts). Several years ago Bob got involved in local politics and last November, by virture of acquiring the most votes of all council candidates, he was elected Mayor..

Sometime in March, Bob Viglione became infected with the coronavirus that has been plaguing the nation and the world. He endured some very scary moments - indeed, weeks.



________________________________
Fred Raban
1950s-60s Member Fred Raban (1941-2020)
We regret to report the passing on April 20, 2020 of former member Frederick Marsh Raban (79), in Wolfeboro, New Hampshire. Fred resided at 34 Willow Street when he joined the company on December 10, 1957.
Fred ran his own graphic design business for 13 years before going on active duty with the United States Army, where he was stationed in NYC, DC, Bosnia and Germany. He retired in January of 2001 with the rank of Master Sergeant.
He is survived by his wife Susan, daughters Kristin and Meredith, and their families. CLICK HERE for the complete obituary for Fred Raban. Fred's cousin, Bob Slater, served as a career member of the department from the 1960s to the 1980s.
Note: All past Company 5 obituaries are now archived on the new "REMEMBERING" page, available in menu above.
________________________________
Co. 5's 1930 Maxim 600 GPM pumper inb the 1952 Hamden Fire Prevention Week Parade of HFD apparatus (Chan Brainard photo)
A few years later in 1956, the 1930 Maxim was the department's spare pumper, stationed at Mt. Carmel for the Civil Defense Fire Auxiliary. Organized the year before, auxiliary was made up primarily of Co. 5 volunteers and led by future Hamden Fire Chief, V. Paul Leddy, who was a Batt. Chief at the time. This newspaper photo below reported on the auxiliary's efforts to raise monmey for the 1956 Heart Fund campaign.
The New Haven Evening Register, Friday, February 10, 1956 (Chan Brainard)
New Haven Evening Register, Saturday, January 31, 1959 (Chan Brainard)
The 1930 Maxim was stationed at the Putnam Avenue station and still the department's spare pumper in 1959 when the Hamden Civil Defense Fire Auxiliary was led by lieutenant future B/C Francis "Chalky" Leddy. Co. 5's captain at the time was Charles Esposito, who would join the career department in November 1963 and would evenutally become the department's second Emergency Medical Services Officer in 1988. Charlie retired in 1993 and passed away in 2007.
_____________________________________________________________________________________________________
_____

Nineteen Years Later

We will always remember our brother firefighters who made the supreme sacrifice, and the thousands of other innocent victims who lost their lives nineteen years ago on September 11, 2001.

Always keep them, their families and the FDNY in your thoughts and prayers.



To bring our members and web followers up to date:
June 2014 - Re-elected were Capt. Russ Olson, and Lieutenants Tom Corbett and Mark Guarino.
2015 - Dan Brown was appointed a career member of the New Haven Fire Department. Dan is assigned on Engine 10 at East Battalion Headquarters on Lombard Street in the Fair Haven section of the City, where Engine 10, Truck 3 and Car 33 are stationed.
June 2015 - Tom Corbett and Mark Guarinio were elected to serve as co-captains, filling the
vacancy left by Russ Olson, who was appointed a career member of
the Waterbury Fire Department later in
2015. Pete Nizen was elected to fill the remainder
of
Dave Johnson's term as secretary. Johnson will serve as assistant secretary.
June 2016 - Line Officers elected: Tom Corbett and Mark Guarino, co-captains; Pete Nizen, lieutenant/foreman. Administrative Officers elected: Mark Guarino, president; Pete Nizen, vice president and secretary; Sue Guarino, treasurer.
Posted 2/2/2017
_____________________________________________________________________________________________________
_____
_____________________________________________________________________________________________________
_____
New Kitchen for Station 5!
Old Walls Became Accidental Time Capsule
The building, built and paid for by the Mt. Carmel Volunteer Fire Co., opened in 1926. Career personnel have been stationed there ever since. But it wasn't until the late 1970s that one of the upstairs bedrooms at Station 5 was converted into a real kitchen. Now, after nearly four decades, it was clearly time for a new kitchen, also paid for by the volunteer company.
Some relics of historical interest
were revealed during demolition
of the old kitchen/bedroom walls two weeks ago. First, was the discovery of many old newspapers dating from 1935 to 1937 tucked away within the exterior walls, presumably an
attempt at insulation. Second, was the discovery of a doorway, long since covered up, that once connected the kitchen area (when it was a bedroom) with the adjacent bedroom, which was expanded into a much lareger bunkroom when the kitchen was built in the late 1970s.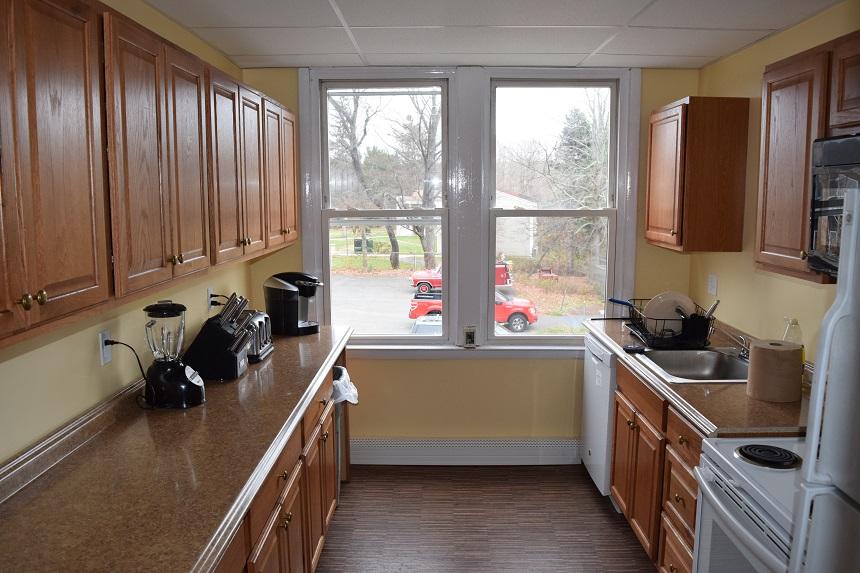 The finished product!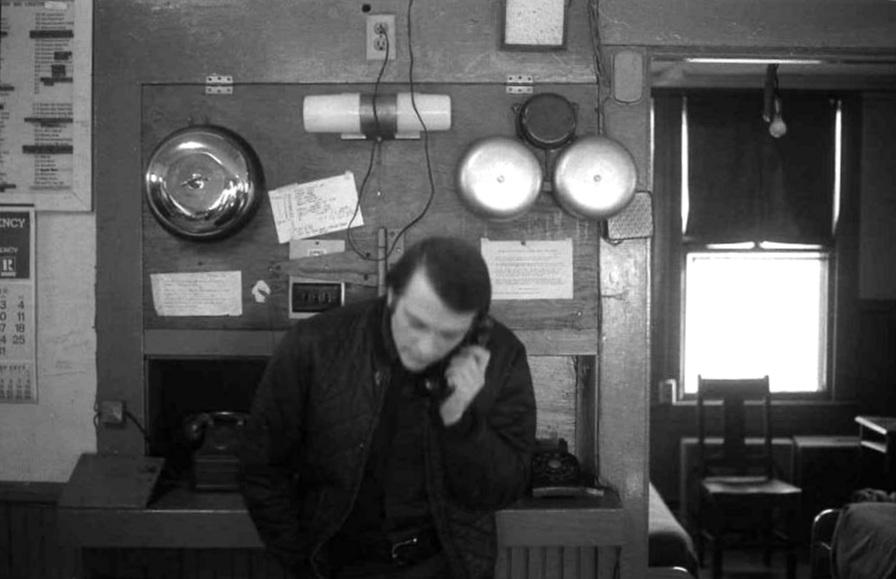 The wall opening to the left of George allowed the firefighter in the lefthand bedroom to reach the house phone at night.
This 1978 photo of Firefighter George Edwards talking on the PBX phone to the Alarm Room, was taken just before the inner bedroom (background - right) was converted into the kitchen. To the left of that room was another bedroom of about the same size. The opening in the wall behind George allowed the firefighter in the outermost bedroom to reach out to answer the house phone at night.
When the station was a two-man house, each firefighter had his own room. Once Truck 1 was transferred to Station 5 in 1976, two firefighters occupied each bedroom. Two bunks can be seen in the bedroom behind George.
The obvious need for a kitchen and more room for additional bunks for personnel resulted in the late '70s conversion of the inner bedroom into a kitchen and the expansion of the outermost bedroom into a four-bunk facility. Today, the south wall of the bunkroon is right about where George is standing.
The alarm bells on the wall and the red "house phone" on the shelf behind George were moved to the south wall of the "new" bunkroom. The old 3-slot pay telephone that was mounted on the wall to the left of the calendar (just out of view), was removed and a regular residential rotary dial telephone was installed.
An old doorway to the adjacent bedroom area can been seen to the right of the kitchen door. This doorway was long gone by the 1950s. It was probably removed during the late 1930s when the newspaper "insulation" was crammed in the bays between the studs of the exterior walls.
Also discovered inside the walls were two modest storage areas that may have provided a minimum of closet space for the early personnel.
When the station opened in January 1926, Al Purce was the driver. He was succeeded by Everett Doherty. They both worked a 168 hour workweek. Time off for early paid firefighters was courtesy of call men, or "substitutes," who were qualified to take their places when they wanted a day off now and then.
The workweek was cut to 84 hours in the 1930s and remained so until 1948, when it was cut again to 67.5 hours. Firefighters achieved a 56-hour workweek in 1951 that lasted until October 1970, when the current 42-hour workweek was adopted.
Eighty year-old newspapers found during kitchen demolition.
A couple of Co. 5 members demolished the kitchen walls last weekend in preparation for a complete renovation which took place during the week. All of the exterior bays between the 2x4 studs were crammed with local newspapers dated between 1934 and 1937, suggesting that some kind of renovation to that area of the fire station
took place when the building was eleven years old.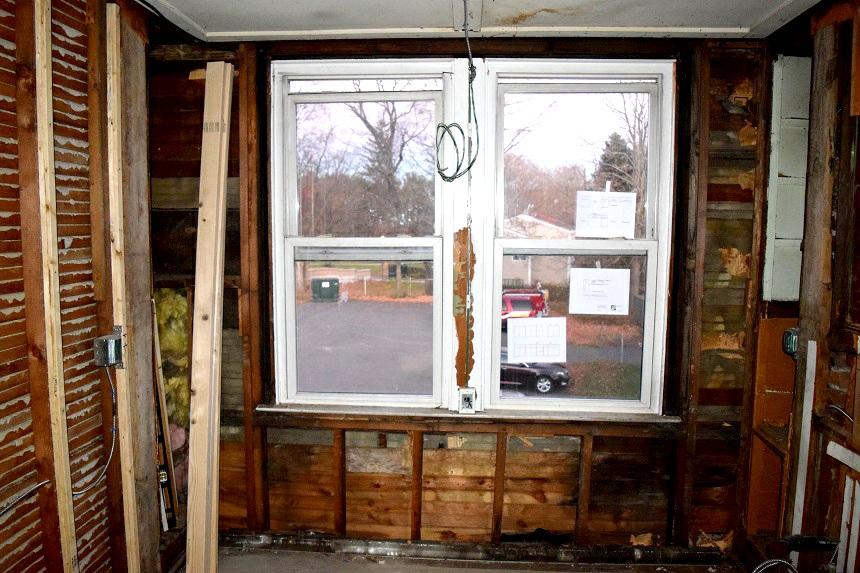 Studs exposed for new drywall. Some remnants of ancient newspapers, apparently used for insulation, can be seen in some of the bays between the studs.
The newspapers apparently were used for insulation. A few of the newspapers - very few - remained intact and quite readable eighty years later (see photo below).
More photos next week, and a possible answer to what changes were made to the upstairs c. 1937.
_____________________________________________________________________________________________________
_____
Welcome!


Attention Co. 5 members, past & present:

Please email JPGs of your photos
depicting Co. 5 activities to

HFDBadge102@aol.com
Or mail your original photos to:

MCVFC Website
P.O. Box 5605
Hamden, CT 06518
We will scan them and mail them back to you within 24 hours of receipt.
_____________________________________________________________________________________________________
_____
_____________________________________________________________________________________________________
_____
COPYRIGHT NOTICE
Unless cited otherwise or in the Public Domain, all material on this website, including all original photos, essays, articles, descriptions and commentary published herein, are © Copyright 2010-21 by the Mt. Carmel Volunteer Fire Co. of Hamden, Connecticut, and may not be copied, republished or transmitted in any form whatsoever without prior written permission of same.
Web Hosting powered by Network Solutions®